Treasury Data


---
Infoscan can provide you with independent customised treasury information, which meets all the IAS39 requirements.
We create customised files that can be directly imported into your treasury system. These files can be delivered in a variety of ways from email, to ftp download or from our website.
The data we provide is unbiased, wholesale market rates as supplied by our leading data suppliers.
We take care of all the maintenance with receiving the data and deliver it to you as and when you require it.
Following are some of the available asset classes – BKBM, Zero Yield Curve, Australian & NZ Money Market, All Major Foreign Exchange Spot, Cross & Forward rates, Commodities.
We can provide the BKBM on a real-time or End of Day basis. The BKBM real-time rates require an additional subscription to the New Zealand Financial Market Association (NZFMA). We also provide the BKBM End of Day Rate which does not require this additional subscription to the NZFMA.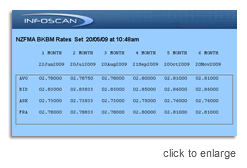 For further information on IAS39, please click here for extracts from the Financial Instruments; Recognition and Measurement (NZIAS 39) standard, that will help clarify your need for our data over other suppliers.
Please contact sales@infoscan.co.nz for pricing.